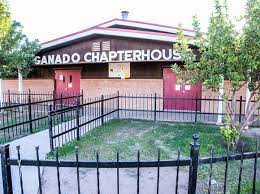 Yá'át'ééh from Ganado Chapter
(Lo'kaah ni teel – Patch of wide reeds)
Ganado Chapter, also known as Lok'aah niteel in Navajo means Wide patch of reed, is an official certified chapter of the Navajo Nation government under the Local Governance Act  and is recognized as a "secondary growth" center within the Navajo Nation.  (A chapter is both a rural community and a unit of local government in the Navajo Nation.) It is located in Apache County, Arizona, and part of the Fort Defiance Agency of the Bureau of Indian Affairs. The Chapter sits at an elevation of approximately 6,400 feet above sea level, in the valley of the Pueblo Colorado Wash, with beautiful visas in all directions.
Ganado community today is home to approximately 1,210 residents according to the 2010 U.S. Census and is one of the progressive Chapters on the Navajo Nation.  It has one delegate seat on the Navajo Nation Council representing the following Chapters: Jeddito, Cornfields, Ganado, Kinlichee and Steamboat. It has a local farm board that manages the Ganado Irrigation Project and has many surrounding cattle and sheep ranches monitored by the local grazing official.
The Ganado Unified School District, the Hornets, is served by Ganado Elementary, Intermediate, Middle School and High School. It has nurtured many students and produced both men and women state renowned teams, in particular, basketball and cross country, for their gamesmanship and talent.
Residents enjoy an ideal four-season climate that averages 300+ days of sunshine every year, together with moderate temperatures and low humidity, year-round. This ideal recreational climate promotes all sorts of outdoor activities like visiting the NPS – Hubbell Trading Post National Historic Site and its rug auctions, fishing at Ganado Lake, attending the annual Ralph Johnson Memorial Rodeo, and other local events. 
The local hospital, Sage Memorial Hospital, serves thousands of Navajo and Hopi patients. It is one of the large employers in the surrounding area.
Chapter Officials:
President- Marcarlo Roanhorse
Vice President- Walter Jones
Secretary/Treasurer- Judy James
Grazing- Thomas Curley
Delegate- Vince R. James
Chapter Administration:
Manager- Christopher West
Administrative Assistant- Cindy Smith
Office Assistant- Esther Kirk
Project Supervisor- Larry Tsosie